NINTENDO 3DS XL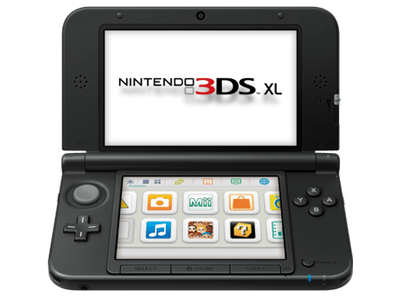 The Nintendo 3DS XL is the premium edition within the 3DS family featuring a dual screen and touch screen innovations alongside advanced graphics, online and local communications.
Two Screens
The two screens offer various ways to play Nintendo DS and 3DS games. With the top screen offering a 90% bigger display with stereoscopic 3D while the bottom screen features touch-sensitive controls for intuitive play.
Battery Life
The battery life has been extended by 6.5 hours to allow for your gaming enjoyment. To store your game saves, downloaded Nintendo eShop content, 3D photos, videos you will need a recommended 4GB SD Card which can be purchased from us directly.
Optional 3D
The 3D option on the 3DS XL brings your games and video content to life without the need for 3D glasses. The 3D depth slider allows you to increase or decrease the 3D effect to what you deem comfortable for your vision. What is also great for parents is if you have children under seven you can lock the feature with the aid of Parental Control settings.
Multiplayer Gaming
Whether playing online or locally Nintendo 3DS XL is designed to make multiplayer gaming easy. Nintendo Network allows players to play safely and easily over a wireless online connection. Amazingly, some games like Mario Kart 7 allows friends to join in even if they don't own the game.
The StreetPass feature allows you to wirelessly exchange game data whilst you pass other players on the street without lifting a finger.
Nintendo eShop
Make full use of the Nintendo 3DS XL and its capabilities via the Nintendo eShop. This dedicated online portal allows you to buy and download any Nintendo 3DS game and store it directly on the system without the need to carry the game card. Some of the downloaded content are exclusive and not available in stores.
PGR 3DS Library
Paramount Games Rental has 80+ Game Titles to choose from to play with this console. If you order a console with games PGR will contact you soon after receipt of payment, when you can tell us the game titles you want delivered with the console.
Check out PGR 3DS library here
Rental Types & Console Deposit
PGR Console Rental offers two rental types: A monthly rental or a weekly 'Try-B4-You-Buy', both types with optional games as well. To protect our company from theft or fraud, a preauthorised deposit of £100 for the console will be added to your first payment. The deposit to be returned as soon as the console is returned to PGR and we are in receipt of it.
Please read PGR Terms & Conditions for more details. If you have any questions concerning the deposite please contact us using the 'Contact PGR' link in the main menu.
---
Order A Nintendo 3DS XL
Select monthly or Try-B4-You-Buy, either with or without games.
---
Purchase an 8Gb SD Memory Card